The RCNH Financial Resource Center provides investors and financial advisors with the necessary forms to implement a precious metals and/or numismatic transaction, as well as a source to review and download a library of marketing materials, research information and analytics. Please contact RCNH Financial at 800-225-7264 with questions on any link option in the resource center.
---
---
---
Simply complete the New Account Form to establish an account with RCNH Financial and to initiate a transaction in precious metals and/or numismatics. The questionnaire section in the New Account Form provides information that allows our tangible asset experts to personalize an investment strategy based upon each investors' unique characteristics and preferences. Please note, page two of the New Account Form applies to numismatic transactions only and need not be completed for precious metals acquisitions.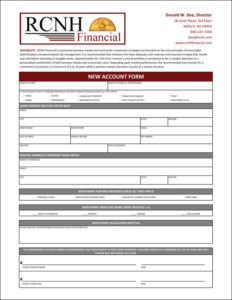 ---
The following two supplementary forms are necessary to be included with the Goldstar Trust Precious Metals IRA account application.
On page one when purchasing or liquidating precious metals within an IRA account established at Goldstar Trust Company,  please place Rare Coins of New Hampshire in the designated area identified for "Dealer" and Donald W. Dee as the designated "Agent".  RCNH Financial's telephone number is 800-225-7264, and the email address is don@rcnh.com.
On page three simply indicate Rare Coins of New Hampshire in the two designated "Dealer" boxes and endorse the form.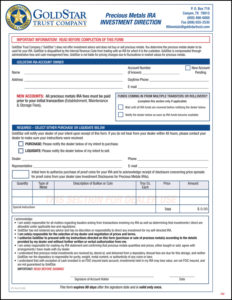 ---
Protecting Your Financial Future in an Era of Economic Uncertainty
Donald W. Dee, Director of RCNH Financial is interviewed on the value of including precious metals and numismatic coins in financial portfolios.
---
Industry References